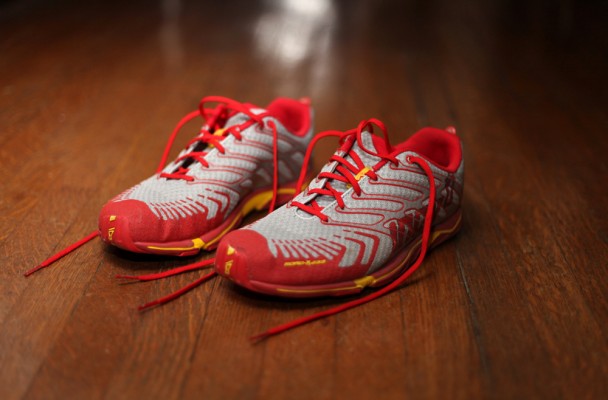 I was originally going to update my previous running shoe post with some new dirt, but I thought it best to write something from scratch. So much has changed in such a short period of time…No, not really. And really.
At the time of this writing, October 9, 2013, I have arrived in shoe Nirvana, blissfully hovering over the earth with the peace and tranquility that comes when a runner finally finds the shoes that work harmoniously with the body in motion.
Let's start with the newest member of the family:
Inov-8 Road-X 233
When it comes to running shoes, I'm all about comfort and performance over style. I'd run in dog pooh, if I thought it would minimize the risk of injury and was comfy enough to run in. With the 233s, though, I think I get both.
As my previous shoe post points out, I started running in minimalist zero drop shoes in 2010. Since then, I have been slowly returning to a bigger stack for longer runs (I still wear zeros walking around the city, for short runs, and at the gym).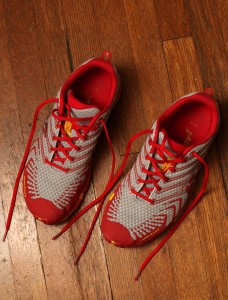 I originally thought my sweet spot was a 4mm rise in the back, in order to maintain a natural mid-foot landing (if the stack is too big in the back, you have to point your toes down in order to land mid-foot, which is very stressful for the feet and the rest of your body).
I ran my first marathon this year in the Mizuno Wave Universe 4 (see first shoe review). But after my 82k trail ultra-marathon in September, the Mizunos hurt my midfoot. Perhaps my foot pads hadn't fully healed (I took three weeks off running after the ultra). Or maybe I just got used to the extra smooth ride of the Salomon Mantra trail shoes, with their 6mm drop and plenty of forefoot protection (more on the Mantras below).
Because I have the running bug, I decided to register for the Scotia Bank marathon, which takes place later in October  (I'm going to run slowly and treat it like a training run, because I have had a short ramp up with very little speed work). I knew I needed another shoe, and while trolling the internet for the ultimate road shoe, the UK company Inov-8 kept popping up. At 8 ounces, the 233s aren't the lightest, but as long as I'm not running in Dutch clogs then I'm ok with a few extra ounces.
Out of the box, they felt good, but I did notice a slight raised area under the forefoot that concerned me – would it irritate the nerves on the bottom of my feet? After a few runs, I simply forgot that I had ever been worried about comfort with these shoes. Over the course of several weeks, I have run a few hundred kilometres in them. They are wide enough for my ever widening foot, give me a sense of fast forward motion, and comfortable even after 3 hours on the road.  Cue wedding bells.
Salomon Mantras – At the top of the trail pile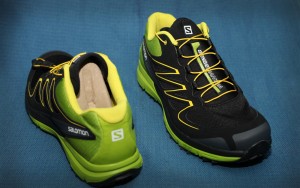 What else can I say about a trail shoe that I ran in during my first 82 kilometre ultra over 12,000 feet of climbs and descents and came out virtually unscathed? My feet actually felt fresh after completing Whistler's Meet Your Maker. If I believed in polygamy, I'd consider marrying the Salomon Sense Mantras.  Not only were they comfortable from the moment I first slipped them on, but they had amazing grip, as I flew down hills with the abandon of a child. In the summer of 2013, I hiked with them through deep and steep snow in the French Pyrenees. Runners often dream of finding "the shoe."  Of course, now that I've found "the trail shoe," I fret that next year the shoe will be redesigned, and all will be lost. Should I stock up on another 10 pairs, just in case?
Merrell Bare Access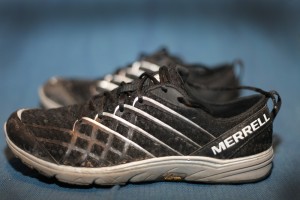 These really aren't my go-to running shoes. They're a bit squishy and feel sluggish for running. I don't get the sense that they really promote forward motion like the other Merrells in my collection (Trail Gloves and Road Gloves). But I wear these shoes all the time. In Paris this year, I walked in them for 8 hours, hauling around my son, and my feet still felt good. They're also a really good looking shoe, so I can dress them up a bit and still be comfortable on my feet for hours at a time.