Post Script to a Second Marathon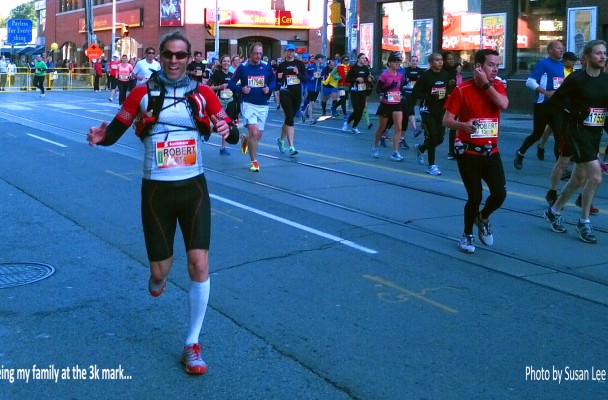 I'll admit, I recently broke rule #1 of long distance running, which goes something like, "Slowly build your mileage (10% per week with an easy week every 3rd week).  Ramping up distance or intensity too quickly will get you injured."
After the Meet Your Maker ultra-marathon in BC last month, I thought my running season was over. But I did have one eye on the Toronto marathon that was taking place seven weeks later. If I was going to do it, my plan was to treat it like a training run, a chance to run with tens of thousands of people. So after three weeks of active recovery (walking, biking, and a few upper body workouts), I took a short 20 minute run to see how my body was feeling (it felt good). The next week I ran an hour, then two hours, and the third week 3 hours. My heart responded well to the effort, but I could definitely feel I was pushing my joints and ligaments, risking injury. I took my last long run 9 days before the race, with just two short fast jaunts the week prior. I rested for the 3 days leading up to the race.
Recovery isn't just about the body. It's also about the mind. For about 4 weeks after the ultra, I had really lost a sense of motivation and mental toughness, and I had no interest in running the marathon. And then just two weeks out, I realized I had recovered mentally, because I started looking forward to the challenge of my second marathon (and actually signed up for the race).
With my big goal behind me – completing Whistler's 82k ultra – I was a tad more relaxed about the marathon. My plan was to finish and, in an ideal world, do it sub 4:30, which wasn't too lofty a goal (My first marathon in Spring was a 4:42).
So I wisely followed the rulebook, testing out my gear before race day and "carbing up" with noodles, sweet potato, and green salads starting two days before the marathon. I did some pre-race visualization, imagining my body loose and limber, as I ran the course. On race day, I Bixi biked down to the start line to ensure my body was nicely warmed up.
The sun was shining, and the buzz was on. University Avenue was teeming with marathoners and half-marathoners waiting for the start gun. Most of the time, I run alone, so I really enjoy the company of other runners at races, and I eat up the encouragement offered by the spectators. It really is fuel.
So did I notice a difference between my first and second marathon experience? I think completing the ultra has shifted my perspective on distance. The first half of my latest marathon happened in the blink of an eye, and because I paced myself based on heart rate (using the Suunto Ambit), I paid less attention to distance. Unlike my first marathon, I never hit the wall the second time around. I think fueling strategies (Carbopro), including sucking on salt caps every 45 minutes, my overall fitness, and perhaps a tougher mind kept the wall away. Of course, I was still tired and struggled to keep my pace up, which lagged in the latter part of the race.
At the finish of my second marathon, I wasn't overwhelmed by a sense of accomplishment, perhaps because I didn't race at the outer limits of ability. I tried to stay in my comfort zone. That doesn't mean I wasn't proud of what I'd done, especially because I still had to work hard and managed to cut 21 minutes off my Spring marathon time.
2013 was by far my biggest running year ever. This time last year, the furthest I'd run was 21k. So one year later, I'd completed two marathons and an ultra. It serves as proof that the body is designed to adapt to an increased work load (if done incrementally). Two days after my latest marathon, I had to fight the urge to go for a jog.
I think the year was also proof that when you put your mind to something, training in a (relatively) informed manner (diet, technique, etc.), lots can be accomplished.  So my running season is officially over, and I'll rest before heading to Malaysia with Outpost Magazine in November. Then, with great anticipation, I will  plot my next run in the woods at the start of the coming training season in December.
And as an aside, breaking rule #1 does have a price: the tendon in my right foot was stiff after the race, so I'm currently using a TENS machine (Transcutaneous electrical nerve stimulation) and ice to keep it a non-issue (I recently purchased a Globus EMS machine, which I will review in the near future).
Post Script to the Post Script:
Coming soon…
I am taking part in a joint photography exhibit in Toronto at Urban Gallery in November (2013). Feel free to drop in during the month or join me for the reception November 7, 6-9pm.