Feet First: Minimalist Shoes to Run By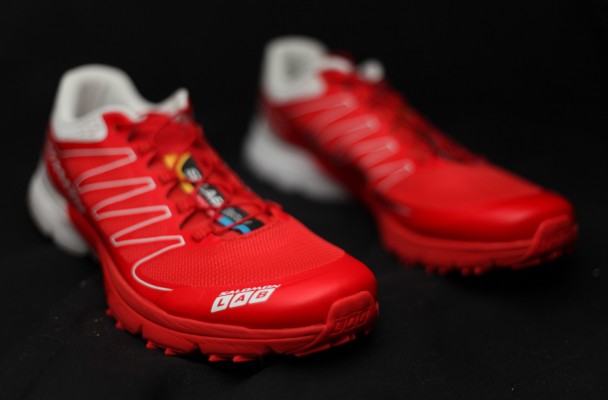 If you asked a teen when mobile phones were invented, they'd probably tell you it was about 250 years ago. Ask about the invention of the running shoe, and they may posit that dinosaurs roamed the earth wearing Converse. The truth is that running shoes as we know them, with those big honking cushions in the heel and ultra-foot support, are a modern creation (with modern implications), which have changed the way we run. And not for the better, in my books. A tall stack in the back means the heel hits the ground first. Try running on your heels barefoot and the pain will quickly force you to shorten your stride and land more softly on the front half of your foot – what's called a mid-foot or forefoot strike (this isn't a union thing).
I moved toward minimalist footwear after reading Christopher McDougall's book Born to Run, a manifesto on how our bodies were naturally engineered for motion and how the shoe industry destroyed this biological birthright and made injury as much a part of running as running itself. I'm going to save the whole bio-mechanics thing for a later post, but the basic idea is that when big cushiony shoes were brought to market in the 1970s, they inadvertently forced the body to move differently than it was meant to, thus creating a new way of running – with an unnaturally long stride and a heel strike.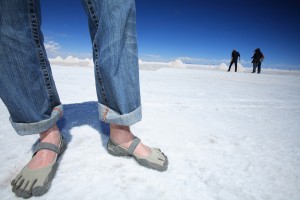 I began running in the minimalist Vibram FiveFingers in early 2010, which you've no doubt seen people wear around the streets – ten visibly wiggling toes on the move. Odd looking, yes, but they are definitely minimalist (but not that cheap, which makes me think the shoe companies still have a handle on the whole non-shoe shoe racket). I took them to Bolivia where I hiked in them for days as well as did long runs in them (see Outpost Magazine, Issue 84 (2011) for my feature on it). The sense of connection to the ground was brilliant and running took on a new meaning for me, becoming as much a meditation as a form of fitness. With a heightened awareness of my surroundings, I felt more responsive to the changes in terrain under foot. The FiveFingers are a zero drop shoe, meaning there is no drop in altitude from the back to the front of the shoe so that you naturally land mid-foot instead of crashing down on your heel. I ran in them for two years, before I foolishly decided I was invincible and ran an aggressive 2 hour trail run totally barefoot. Douchebag move. I was almost instantly hobbled by tendonitis in my foot. It was a frightening loss of mobility. I had to psyche myself up just to walk to the corner store.
After I healed (several months of non-insured therapy, self-massaging and icing my feet), I moved over to the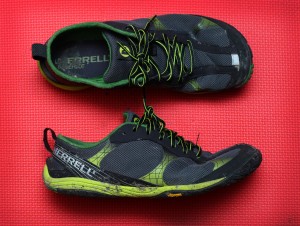 Merrell Barefoot Road Gloves for road running and the Trail Gloves for cross-country.  I love these shoes. Zero drop like the FiveFingers, but with a wide enclosed toe box, which allows the toes to splay naturally as they would when barefoot but protected by the shoe (I prefer not to wear socks when I run, which allows the toes to do their thing). I found I didn't feel the ground quite as much, which I accepted as part of the trade off, given that the FiveFingers can be quite unforgiving on jagged and gravelly surfaces.
I still head out regularly to run in the park barefoot, just to remind myself what it feels like, check in with my technique, toughen the bottom of my feet, and feel mutha nature tickle my toes for 20-30 minutes.
In September, I ran the 5 Peaks half-marathon in Terra Cotta, Ontario. The course was poetic in the rain. Mist clung to the mossy forests. My Merrell Trail Gloves, however, slowed me down. In the first sections of slick single track, I fell 3 times. I no longer trusted that my shoes would stick, so I had to run gingerly, which actually made me enjoy the scenery and the race a lot more. About 1/3rd of the way through the course, the lead runners flew past me like apparitions on their way back toward the finish line, floating above the rocks in these red and white shoes.  I knew they weren't flying just because of the shoes, but I definitely needed to get my hands on a pair.
Those red and white shoes are the Salomon S-Lab Sense, a pro-shoe, which means $200 + tax. Designed by Kilian Jornet Burgada, a Spanish rock star in ultra-distance running, these shoes have a 4mm drop from back to front, which isn't too steep for a mid-foot strike, and they are so light (7 ounces) you can almost imagine they were made with helium particles or fairy dust. Of course, the cost of lightness is durability. It was suggested I use them mostly for racing so as to prolong their short life and perhaps reap some benefit on performance (The shoes reportedly have a lifespan of 500km (300 miles), though one ultra-runner blogged that his shoes lasted 1200k (700 miles)). So I plan to run a few winter x-country runs with them, then switch back to my Merrells until the race season, which will include the Whistler Meet Your Maker 50-miler in September 2013. The nice thing is that the S-Lab has good ground sensitivity but with a little more padding that will help make those extra long runs a little more forgiving on the feet. Perhaps a middle path between stripped down minimalist footwear and heavily built up pillow shoes.
Ultimately, I think minimalist shoes take into consideration some incredibly important bio-mechanical truths about human beings – how we were designed to move. But you have to get your technique right. If you don't, you are far more likely to have a catastrophic injury going minimalist than running 'wrong' in standard jogging shoes.
As I build up mileage through 2013, I will definitely update my thoughts on footwear and particularly the Salomon S-Lab Sense.
Feel free to leave comments below.
Useful links:
An S-Lab In depth Review
http://itsallaboutthevertical.wordpress.com/2012/10/24/salomon-s-lab-sense-review-final-update/
* * *
Updated – April 22, 2013
Since my last shoe review, the snow has melted and my shoe family has grown by three: Merrell Barefoot Access 2, the Mizuno Wave Universe 4, and the Salomon Sense Mantras.
First off, my forefoot has noticeably widened since going to a mid-foot strike three years ago. The new purchases are, in part, a result of this widening. Those beautiful red and white Salomon S-Lab Sense shoes that I so coveted in my original post ended up being way too tight on my wide feet. I thought I could stretch them out, but it was a $200 mistake with some bad baby toe blisters to prove it.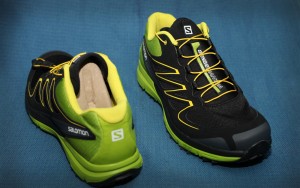 I did some homework and read that the Salomon Sense Mantra, a much less expensive shoe but derived from the same design pedigree as the original Sense, had a wider toe box and was robust enough to handle ultra-cross country runs. It has a 6mm heel to toe drop, which is a bit plusher on down hills, if you need to heel strike. When I slipped them on, I noticed right away that the toes weren't being pinched together like the original Sense. Still, nothing compares to the roomy toe box of the Merrell Trail Glove. I will post more on the Mantra as I start logging more miles on trails – after my road marathon in early May.
On to the road…
Because my love affair with Merrell runs deep, I bought a pair of Merrell Bare Access 2, hoping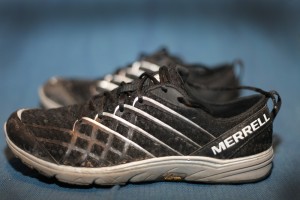 they would be my marathon shoe of choice. I wanted a slightly roomier shoe than the Merrell Road Glove with a bit more padding for those 3+ hours on the road, especially while carrying a few pounds of water in my Salomon S-Lab 12 Set backpack. They are a zero drop shoe but with 8mm padding versus the 4mm bed found in the Road Glove. Right off the top they were comfortable. I ran several 3 hour runs in them without any foot or joint pain. But they lacked life and were a tad squishy and unresponsive to the road. I felt like I could do better, so my search continued for the holy grail of road marathon shoes…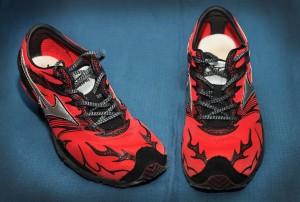 The Mizuno Wave Universe 4. My research pointed me to the Mizunos. I couldn't find these for sale in Toronto, so I had to buy them online – which is a drag, because shoes are best worn before purchased. I'm usually a size 8US, and I heard the Universe 4 fit small, so ordered up to an 8.5. When I got them, they were too small and cramped for my feet. I sent them back and ordered a pair of 9s. And I waited…And the wait was worth it. They were perfect: 4mm heel to toe drop, a wide and airy toe box, and ridiculously light on the scale — at 3.9oz. They were also under $70, which is a great price for a work of art. I took them for a short test run and fell in love. Then I took a big chance and ran my last long run (LSD) before tapering for the marathon. I stayed out for four hours, water pack on my back. Were my feet tired? A little, but not any more than the rest of me was. Last weekend I ran the Toronto Downhill 10k in a PB (personal best) time of 47 minutes flat. The Mizunos did their job by being comfortable and light on the feet, facilitating a rapid crisp leg turnover.  I will be wearing the Mizunos at the marathon start line next week. I'll be sure to post my thoughts on running 42k in the Mizunos.