Whistler's Meet Your Maker 82km Trail Ultra– And Why I think I Made It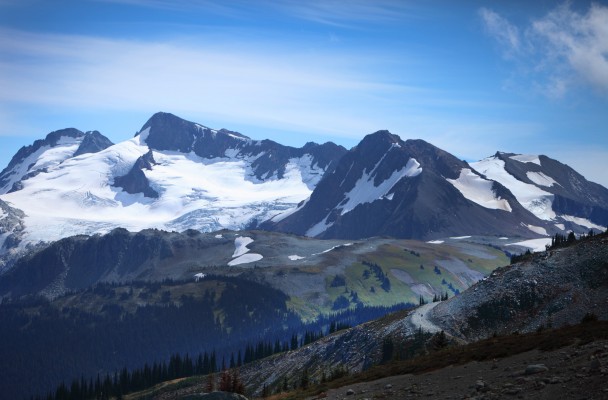 First off, wow. I loved this race, and I loved having the ultra-off-road experience in such a spectacularly beautiful corner of the world. In fact, the reason I chose to run an ultra in the first place was because of a photograph taken from last year's MYM. I wanted to run in those BC mountains.  Let's just say an ultra set in Detroit wouldn't have had the same allure.
Click the link to watch the video I shot along the route.
Second off, I arrived at the finish line second last. But it was honestly never about how I stacked up against anyone else. It was about saying 'yes' to an experience like this, buying a plane ticket, and training my ass off for it. Finish lines are sweet, because they represent our accumulative efforts. MYM was also about trying to figure out how to train without over-stressing my body and doing long term damage. After all, I want to be physically active well into old age.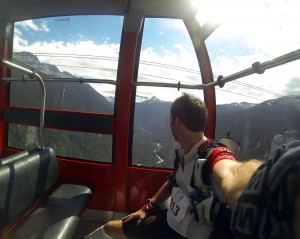 About a week before the race, I was listening to a specialist being interviewed on CBC radio discussing how to prepare mentally for competition. He said focus on your strengths not your weaknesses. So I started to think about my strengths: Speed, no. Strength, no. Endurance, a little. Downhilling, maybe. Uphill, not so much. Never giving up, absolutely not (I quit all the time). This exercise got me nervous. Then I found it:  mindfulness. I had been doing a regular meditation practice for the last 5 years and had integrated it into my running around the same time that I started to change my running style from heel striking to the gentler mid-foot strike. I also realized I was pretty good at sticking to a plan, whether it was dragging myself out of bed to run 3 hours in minus 15 degree weather, counting calories, or taking the required rest days to recover.  And for MYM, my race day plan was to start slow and then back off. This was, after all, not a 2, 3, or 5 hour off-road affair. It was going to be a 15 hour outing (the max time allowed to complete the course), if I was going to finish it all.
As the trail gods would have it, I crossed the finish line after 14hrs and 42minutes (really, 15hrs minus the gondola ride on the Peak to Peak from Blackcomb to Whistler Mountain) Here are a few reasons why I think a boy from the flatlands of Ontario finished the race:
Plan your plan and stick to it – until conditions on the ground dictate otherwise.
A slow build in training intensity and duration with lots of rest. When in doubt, rest. Sick or injured? Rest! It'll serve you better than limping or a lung infection.
Mindful running – reduces injuries and overtraining. I used this awareness approach to navigate specific aches and pains I had on the course, changing things up to relieve the inevitable discomfort that reared its ugly head. Also: cross-country running is not for drifting minds. Getting distracted at the wrong time can mean a bad fall.
Figure out one main seasonal goal and build smaller goals along the way. Never sacrifice your big goal for a secondary race or event.
LSD. Long Slow Distance runs once a week are the foundation of ultra running. This isn't a sprint. It's a gentle patter through forests and hills. Training the body to run with a lower heart rate preserves the fuel stored in your muscles and allows your body to subsist on your fat supply. So, like they said in the 1960s, do lots of LSD.
Do your longest  run a month or so before the race – and taper down thereafter. I ran trails up in Ontario's Forks of the Credit for 7.5hrs covering 52 kilometres and 4,000 feet of climbs and descents a month out. It beat me up, but it also prepared my body and mind for the race-day effort, while still giving me plenty of time to recover. It also demonstrated that I could cover ground just by averaging a meager 6km/hr pace.
Cross-training. I haven't been a gym rat for many years now, but I started going with my sister on our lunch breaks, so as not to cut into family time after work. I never go 100% effort at the gym, but I think weights have added a crucial dimension to my fitness.
Training is all about working various components of your fitness. Speed work: You may be running and walking 80 kilometres, but doing speed work and intervals at the track or uphill helps build the top end of your cardio and teaches the body to recover more quickly. It builds power and better joint connectivity, too, and is a fun way to break up the routine of LSDs (I focused on speed during the last 8 weeks before MYM). Slow long distance builds endurance and the ability to say on your feet for hours. The workout sessions themselves may go badly, but the idea is that on race day all the disparate training fuses together to give you a superior performance.
Figure out the key element of your goal or activity: does it require speed? Huge altitude gains? Technical downhills? When you figure that out, train accordingly.
Train by heart

(see previous post).

Over the course of 10 months using a heart monitor, I really started to understand what my body was doing. Monitoring your heart is about long term health, not just a short term performance goal. The night I finished MYM, for instance, my resting heart rate was 85 beats per minute, which was 22bpm faster than my normal resting HR. I knew my body was still revved, so I was careful to minimize any further stress over the following days.
Test everything out before race day, whether it's the clothes you wear or the food you eat. My Salomon gear served me well. No chaffing, and I only got one small blister on my foot after 50 miles (I wore the Salomon Mantras). Figure out what you can consume while running that minimizes GI distress (Carbo-Pro and Metasalts made up 80% of my calories with a few gels and cookies along the way).
Active recovery: commuting to work on the Bixi bike throughout the year, as well as strapping my son on my back and walking around the city was all part of my training and recovery.
Eating lots of healthy alkaline-forming foods reduces inflammation in the body and makes for a faster recovery (Nutella and ice cream are still occasionally on the menu).
Smell the forest: out on the trail, I made sure to always look around and breathe in the scenery. It didn't get me to the finish line first, but I almost always appreciated where I was.
Since wrapping up the race, I do feel a stronger sense of possibility — that I'm capable of a lot more. I've also become more aware that my mind can be as much a block to my goals as the circumstances that rest beyond my control.  Would I do it again? Absolutely, but I'm taking a month or so off running to give my body time to recover and to have more weekend time with my little family.
Look out for my article in Outpost Magazine coming soon to a magazine store near you. It'll include more of a blow by blow account of the race itself.