Return to a Childhood Eden – A Cross-Country Run in the French Pyrenees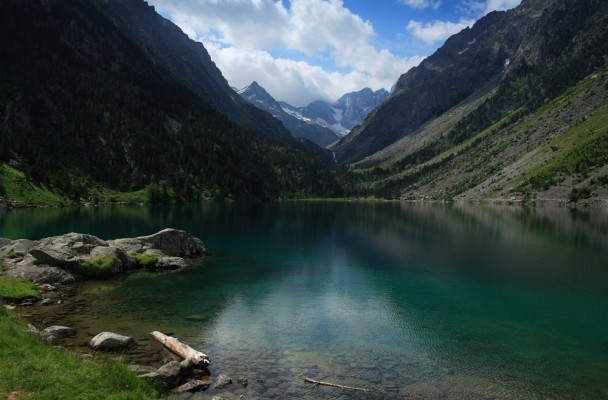 I can hear the low warm chime of cow bells before I see them. Then, as I round the corner in view of a gushing river, the stout beasts are revealed, grazing on the lush Pyrenees grass. Underfoot, my short strides over loose rock make a soothing, crunching sound like a bowl of cereal being munched on by my two year old son.
A few kilometres back, my parents along with my little family sleep at Pont d'Espagne, a beautiful family-run hotel nestled on the edge of the confluence of two forceful rivers 1500 meters above sea level. Up ahead, my planned cross-country run will cover dozens of kilometres over 1200 meters of ascents and descents, including two exposed mountain passes and a fast and furious return.  In preparation for Whistler's 80k Meet Your Maker this September, I need to maximize my training, even while I'm supposed to be relaxing on holiday with my wife and son.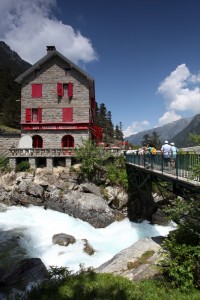 I'm no stranger to these mountains, and the Marcadau valley and I have lots of shared memories. I first came here when my dad lugged me up the valley on his back in 1969. And for close to twenty years, my three sisters and I returned each summer with my parents to hike. That was their gift to us: to bring us back to this place year after year so that now it permeates the deepest recesses of our memory and being.
I'm feeling good about the prospects of completing the circuit, though the main variable that concerns me is white. For many years now, the Pyrenees have been losing vast swaths of its permanent snow, but last month a large amount of precipitation washed away roads at lower altitudes and dumped about 10 feet of snow higher up. Unsure what to expect ahead, I bought a telescoping walking stick in the nearby mountain town of Cauterets. Other alpine essentials include: a light windbreaker, hat, gloves, an emergency blanket, a headlamp, 2 litres of water, food, gators to keep the dirt out of my cross-country shoes (the Salomon Mantras), and my Gopro camera (click here or see video at bottom of page). You gotta pack light but smart, because weather changes dangerously fast in the mountains.
From past race experience, I've learned the hard way to start slow and build speed within my comfort zone. Today's run is no different, so I take my time moving up the valley, speed walking steeper uphill sections to conserve my energy, while taking advantage of gravity on the downhills.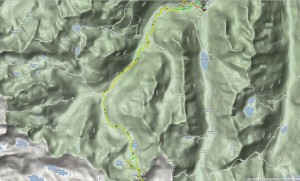 The Pyrenees, which border France and Spain, are truly a human-scale mountain range, with the highest summit being Vignemale at 3298 meters. Despite their lack of vertical greatness,  they are perfect. When I was a teen, I went off for a hike by myself and ended up scrambling to the top of Muga, a rugged 2700 meter peak. It was a rite-of-passage of sorts into my independence.
It says something about this place and my folks that I've returned here with them three times  in the last four years. At 84, my father is no longer the billy goat he once was, but, like these mountains and rivers, he too is a force of nature, still hiking with my mom, still pushing his limits, but also wise enough to stay back from the line between risk and recklessness.
Speed walking and jogging up to Lac d'Arratille, I'm stunned how virtually nothing has changed since I was a boy. It remains pristine. Though I've brought a map along, just in case, I run exclusively on memory (and I haven't been up this particular valley in probably 25 years).
Rising beyond the lake, my worst fears are confirmed. The slope up to the col is largely snow with rocky patches. I push ahead but find that the heavy snow has erased the markings to get up to the pass. I stumble mentally, shaken by the prospect of how to safely navigate the terrain. I search for signs of boots in snow or cairns marking the route. Minutes tick away, as I contemplate the route, viewing and reviewing the crappy map I fish out of my bag. I feel a nervous sweat gather, which is chilled by the air. It's then that I see two other hikers making their way up to the right of me – maybe half a kilometer away. I figure that they must know the route better than me and so I hoof foot holds into the snow and quickly bridge the gap. When I catch up to them, however, it turns out they know about as much as I do. The French brothers are in their sixties, and the younger of the two explains that people always think he is the crazier risk taker of the pair. But with his brother out of ear-shot, he expresses some doubts about his brother's judgment on the mountain. After some back and forth discussion, we decide on the line to take up through the snow, which is confirmed by a group of Spaniards snaking their way confidently up the slopes to the col (or, as they curtly correct me, Catalans). I'm surrounded by well kitted hikers with boots, piolets, and crampons, while I'm in cross-country running shoes and a sad telescoping walking stick that keeps shrinking on me.
I follow the Catalan youths across a snow traverse that slopes into an ice lake. I move somewhat tensely, and it seems to me that no one else appears at all bothered by the icy death that awaits the hiker unfortunate enough to lose his/her footing (OK, perhaps I'm exaggerating a little). I'd crossed this type of terrain many times as a kid, but I always hiked with a piolet. My father had taught me and my sisters that if we fell, to drive the pick into the snow, which would act as a break. My telescoping walking stick unfortunately doesn't instill the same confidence.
At the Col d'Arratille, I speak with the younger French brother, who is still waiting for his sibling to cross over the lake. For reasons unknown to either of us, he has chosen to traverse alone – long after the rest of us have crossed. His growing irritation with his older brother is apparent, "And they say I'm the crazy one! My brother is way more crazy! To cross that by yourself…C'est fou!" He goes on to discuss the finer points of the dangers of the traverse versus a straight climb up or down snow. Points noted.
Officially standing in Spain (no passport required), I realize I've lost almost two hours finding my way up the col.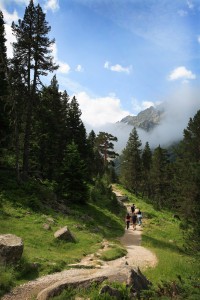 With the clock ticking, I forge ahead alone, traversing several more patches of snow, until I arrive at a vantage that literally makes me lose my nerve. It's a mass of snowpack that drops continuously to the valley floor. To get to the next mountain pass, it appears I'll need to do oodles more snow traverses. The little voice in my head kindly breaks it down for me: "You've got a wife and child expecting you in less than two hours. You don't know what risks lie ahead or how much longer it'll take, but you do know how to return safely and can make good time." So I opt to double back after 14 kilometres and 4000 feet of elevation gained.  In the end, this hasn't been the run I hoped for; it has become a pure alpine hike, which I'm simply not equipped for. I turn around and begin the fast walk/run/slide back to the hotel.
I put on a good show and pick up the pace to Pont d'Espagne, where Lara and Sevan are waiting. Lara looks happy and relieved to see me, while Sevan sports a massive toothy smile. I kiss my finger and point to the sky, feeling like a cartoon superhero, who doesn't really have any superpowers – just the desire to try something challenging.  I sit around the table with my mom and dad, my wife and son, drinking a celebratory Coke. It feels special to be all together, creating more family history up here in the Pyrenees, with Sevan perhaps beginning to develop the same love and respect my family has for this magnificent place.