Winter Training: The Indoor Option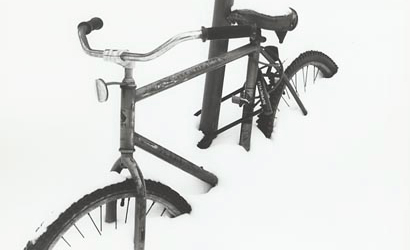 OK, th winter of 2013/14 has been shaping up to be the most challenging one yet for outdoor training with temperatures dipping into the -20s and -30s, deep snow, and luge-quality ice glazing the city's sidewalks. When I got a cold then the flu from my son over the Christmas holidays, I decided to stop looking out the window and keep my workouts indoors until temperatures returned to a more reasonable -5.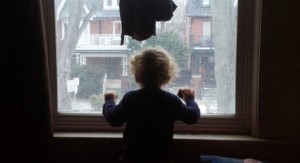 I turned to the gym, really focusing on leg strength, muscle balance, and physical recovery, doing everything from setting the treadmill to 15 degrees and walking/running uphill to doing squats, leg press, and planks. At home, I set up my racing bike on a Tacx trainer for some weekend spinning, just to get the blood flowing and some sweat on my brow.
With my 170km run around the Mont Blanc range in France, Italy, and Switzerland set for July, I have to think about power, endurance, and recovery, as I will be running 5 days in a row with distances of up to 40km a day covering around 6000 feet of ascents and descents each day. The variables will be incredible, with the chance of persistent heavy rains, snow crossings over 9 mountain passes, extreme heat, and all those other "unknown unknowns" that Rumsfield once blathered on about.
I will, of course, carry forward a lot of the training knowledge I acquired last year in preparing for the 82km Meet Your Maker ultra marathon to this year's project, including back to back workouts (to speed up the body's adaptation processes), an alkaline diet, and training with less water/food to prepare the body to function in deprivation mode. But I have to recognize the unique characteristics of this year's project in the Alps, which includes more technical alpine elements, navigation, and the need to be able to recover thoroughly over five days of running.
Among my indoor training tools is the Globus Premium EMS (Electrical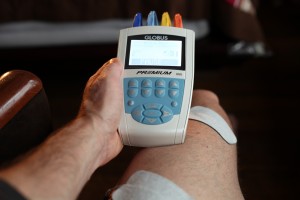 Muscle Stimulator) machine, which sends an electric current through muscles (via electrode pads) to initiate involuntary muscle contractions and increase blood flow. It was a pricy investment, but I've found it invaluable, allowing for quicker recovery after big workouts. The Globus Premium has programs for building explosive strength, endurance, recovery, and even pre-competition warm-up (I used it before my second marathon last year, and my legs were fantastically perky at the start line). Owning a good EMS machine is like having a physiotherapist in house and can really stave off injury.
The power of the foam roller can't be denied.  Whether training for an ultra or suffering body aches from sitting at a desk all day, this is the cheapest and fastest way to release stiff muscles.  My wife, Lara, bought it for me last year, and it was a revelation. The best part about owning one is that you don't have to deal with the humiliation of rolling around publicly on the gym floor like a dog in heat.
When I finally do head outdoors again, I will take advantage of the winter and go deep into the snowy ravines to run/speed walk with lightweight crampons (the Kahtoola K10s) and folding trekking poles (the Black Diamond Ultra Distance) in preparation for the Alps.
Honestly, I'm a fair weather guy, but strategic winter training does help build the base, which reaps benefits later in the running season. For me, the key is to think "I get to run" vs. "I have to run." This mantra is definitely easier to buy into when I'm running in the woods. So far my favourite Toronto ravine for cross country running is the Don, which has some great and varied trails snaking their way through this urban ravine. Here, a run in the woods becomes a meditation on the mind/body/nature connection.
*
Update January 29, 2014
After posting this blog, I took another look at the weather forecast for the coming week, and it was an unbroken chain of -17s that would feel like -30s with windchill. It was demoralizing to know I wouldn't be able to run outside for at least another week. So I decided to just bundle up and go for it. So since then, I've been running for an hour or so at a time, which seems to be the point at which my toes start to go numb, no matter what kind of socks I'm wearing.
What does dressing for -30 look like?
–>The feet: 1 pair of Smart Wool socks and thermal socks, with a plastic bag sandwiched between. Salomon Mantra trail shoes (for slippery street running).
–>The legs: Compression shorts, compression calve guards, long johns, and running tights.
–>The upper body: Body Armor top, Salomon compression top, and a North Face fall winter jacket. Hot shots in the gloves.
–>Head and face: Neoprene face mask with a cotton Buff underneath. Hat.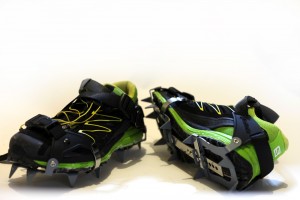 Even with all these layers, there will always be a weak link. In my case, the core and legs feel cozy and warm, but breathing through two layers can be a bit challenging, especially when doing intervals on ice hills wearing the Kahtoola k10 crampons. BTW: the K10s, with their 1 inch spikes, stick on the icy slopes like glue. They are remarkable in their ability to be strapped quickly to trail shoes, and their flexibility allows them to flex with the shoe.
In the end, I'm ok to sacrifice aspects of my workouts on a week by week basis, if weather is just too harsh, as long as my long term fitness goal is met, which is the ability to run 170km over 5 days with 30,000 feet of elevation gain and loss along the Tour du Mont Blanc in July.