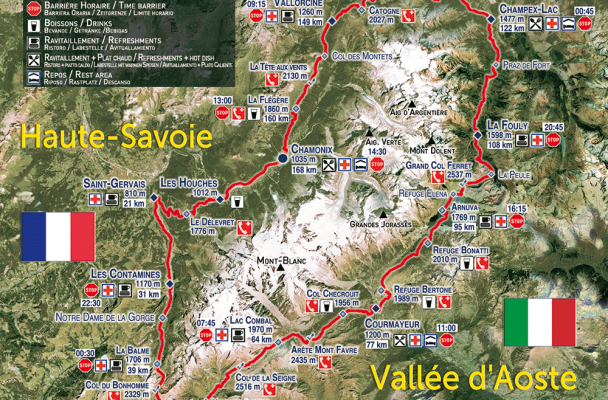 I truly thought after completing my first ultramarathon this past September that a switch would turn off, and I would never have the urge to train let alone run an ultra distance again. In the weeks that followed the race, I chilled with my wife and son, did a few easy bike rides, worked on my Outpost magazine article, went to work, and just soaked up life after tackling something that I'd thought nearly impossible.
But I'm a project based guy, and I know this, because when a project ends and a new one hasn't revealed itself, I start to get what the Germans call ameisen in der hose, or ants in the pants. On the heels of the 82km Meet Your Maker ultra-marathon, I had earned enough qualifying points to take part in the CCC, a 100km 26hour race that circles part way around the magnificent Mont Blanc Massif in France, Switzerland, and Italy. That sounds pretty sexy.  Oh, and 6000 metres of elevation gained. I only have two years to participate, before I need to re-qualify, so the clock is ticking. I know I would enjoy the race environment in Chamonix, which is arguably the heartland of the ultra trail running world, but I suspect the scenery would largely become a blur, as my legs become boneless chicken and my brain becomes mush-mush.
On the domestic front, my wife hasn't been too keen on me training up for another big race, which would take lots of time out of my week and lots of energy out of my tank to tackle day-to-day living. If you've seen Weekend at Bernie's, you know the dead guy Bernie wasn't helping out much around the house…
Another thing playing in the back of my mind has been the desire to one day journey all the way around the Mont Blanc range.  And the UTMB, which is the big sister to the CCC, does just that. But covering 167km along the trails of the famed Tour de Mont Blanc (TMB) — over 9600m of climbs/descents (31,000 feet!) — with a 46 hour cut off seems a bit too masochistic for my taste. By the way, the fastest racers do it in 20 hours. The slowest get pulled from the course or are carted off on stretchers.  For mortal hikers, the TMB is normally completed in 7 to 12 days.
But I do love to run/walk mountains, as opposed to trudging with 40 pounds of kit. So I got to thinking: what if I packed super light (4kg), wore alpine running gear, and went from hut to hut, covering close to a marathon a day? My heart rate immediately jumped, my palms sweating. I knew I'd found my next project. I was jumping onto the computer, studying topo maps and sunrise and sunset charts for the region, researching what picturesque refuges I could bed in, and what sorts of elevation gains/losses I could expect each day.
You gotta love planning (or, at least, not hate it), if you are going to enter the world of long distance alpine running, because there is so much of it. For me, it's a form of daydreaming that fuels me indefinitely. I literally get lost for hours planning out my workouts and the details of the big project. Is it indulgent to think about such relatively frivolous things? Absolutely, but it's quite vital and connects me to a much bigger experience that I general lack in the closed spaces of the city.  One thing is clear: the longer I stay at a desk job, the more I seem to push to counter the sedentary gig with big outdoor adventures.