A Generational Call to Action – The Global Refugee Crisis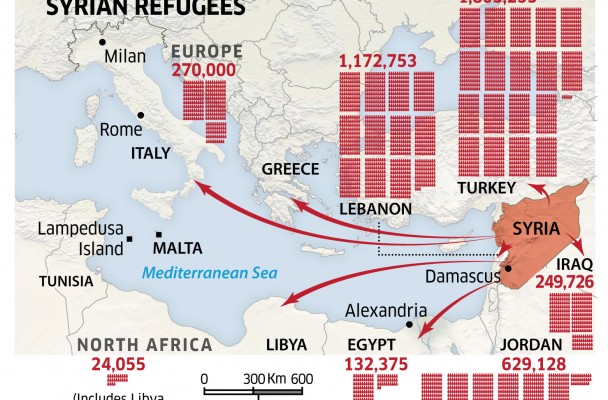 Since completing my first novel, Josef's Lair, I've been working on several other projects – some just dabbling, others with more commitment. Not knowing what the next big project is going to be admittedly leaves me a little uneasy – I'm still learning to trust that the universe and my own instincts will line up and bring something to my attention that's worthy of my obsessive tendencies.
In the midst of all my noodling about where to turn my creative attention next, the war in Syria has continued unabated. What began in 2011 as a pro-democracy protest in the city Deraa soon spiralled out of control. Day by day, the reports out of Syria have grown more and more dire, the violence swallowing up ever larger swaths of the country.
It has been extremely hard to watch world governments play politics, calculating their moves based principally on their own economic and geopolitical self-interest. I had a similar feeling of helplessness and disgust watching the Rwanda genocide unfold on the nightly news back in 1994 – while world powers stood on the sidelines, talking loudly but doing absolutely nothing.
This past fall, a group of us decided that being mere spectators of the crisis in Syria was no longer an option.  And so The Marhaba Committee was born to assist a Syrian family resettle in Toronto (Marhaba = 'Welcome' in Arabic).  It's an awesome group – ESL educators, artists, lawyers, as well as nurses, IT specialists, social workers, and scientists (it makes group meetings challenging, because I just want to hang out and learn more about these fascinating people). Some from the group I had known previously, while others were complete strangers. And that's the beauty of private sponsorship: strangers helping strangers in need.
Perhaps every generation gets its call to action. My grandfather helped bring Jewish refugees out of Europe during the Second War at a time when Jews weren't welcomed in Canada.  Decades later, my parents helped a Vietnamese family settle in Toronto – as part of a sponsorship group at our Synagogue.
While preparing for the Syrian family's arrival, I've found myself occasionally overwhelmed, feeling that I have "my own projects" requiring my attention. But then I remind myself that the sponsorship project isn't interrupting my life but rather is a really interesting part of it.
Of course, settling Syrian families in Canada won't solve the conflict in Syria, and a good many of those fleeing probably never wanted to leave. I also recognize that the world has many conflicts raging, and many people desperately need help, including within this country. It can be quite overwhelming. Who to help? How to contribute? And what difference will it make? In the face of these questions, it's easy to do nothing. But The Marhaba Committee decided to come together to help a Syrian family.  In the grand scheme of things, it's a small gesture – literally one family out of millions in crisis – but, nonetheless, it's a gesture of hope.
Learn more about the Marhaba Committee at www.MarhabaCommittee.org
If you would like to donate, please visit the Ryerson Lifeline Syria Challenge website. On the pull-down menu, you will find The Marhaba Committee under the U of T sub-heading (not to be confused with Marhaba Toronto under the Ryerson sub-heading). http://www.ryerson.ca/lifelinesyria/uoft/index.html#leads