Time Capsule: What Happened in the 20 Years it Took to Write Josef's Lair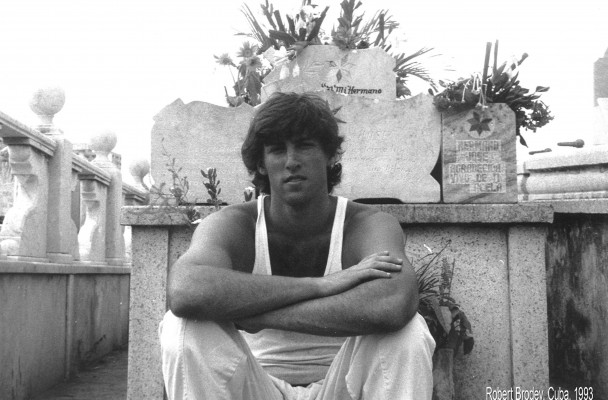 What's 20 years? Longer than the life of an old dog, a good lifespan for a cat, and basically takes a cute little dribbling baby all the way to adulthood. 20 years is also the length of time it took to complete my first novel, Josef's Lair.
I started writing the manuscript when I was just out of university. Back then I had the fresh face that 20-somethings have when they've got their entire lives ahead of them. My brown locks were long and wingy (the concept of grey hadn't even entered my follicles), and I sported a goatee that looked mighty fine with my Guatemalan vest sans shirt.  Back then email was a new concept, the first few websites were just popping up, and I was listening to Rage Against the Machine, Nirvana, and Seal. I moved into an apartment in the Annex and was doing freelance photography and getting my first few assignments from a newly hatched travel magazine called Outpost.  I was optimistic that my trajectory was indefinitely upward.
For several years, I worked my ass off on Josef's Lair, suffering through the loneliness of a process that at times felt endless and rewardless.  I had to remind myself that I was writing as part of my own self-development and that I couldn't rely on others to give me or the project validation. During that time, the Rwandan genocide took place, the Siege of Sarajevo finally ended, and Japan saw an economic recession that left men in business suits sleeping in public parks. Oh, and somewhere along the line, I traded in my hippy vest for a more urban look.
2001 arrived, and the goatee and long hair were history. I started to pitch Josef's Lair to agents and publishers. I didn't wait around for the phone to ring, and I took off to Brazil to backpack for a few months. During my trip, I received the occasional rejection email for Josef's Lair, but I consoled myself that I was in Brazil, travelling, writing, and doing photography.  The story wasn't dead for me, and I knew I'd have to keep working on it when I got home. And that's what I did.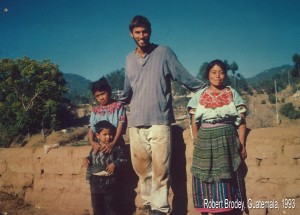 In 2003, I moved to Costa Rica, where I spent a full year working on Josef's Lair. As much as I was focused on the Holocaust and the geopolitical events being explored in the story, I was also preoccupied with the nightly news and the shambolic American rhetoric building around claims of WMDs in Iraq, which ultimately led to the invasion. On a lighter note, I was listening to Coldplay, 50 Cent ("In Da Club"), and lots of Spanish music (Soda Stereo, Jaguares). Often, when I worked on the project, my sense of time would vanish, and I would only re-emerge from my imagination at the end of the day. Those were always good days.  Occasionally, when I hit a creative wall, I'd hop on my bicycle and ride high up into the mountains rising beyond San José, and I would exhaust myself to clear my head. During the head-clearing, answers to story-puzzles often emerged and so I came to understand that exercise was not an escape but rather an integral part of my creative process.
As the years passed, I kept plugging away at Josef's Lair, all the while turning my attention to different projects and working freelance gigs to pay the bills. I would go through bouts of hopelessness, wondering why I had ever embarked on such a journey. By 2009, with Feist and Thunderheist playing on my stereo, I thought I had completed the novel, but there was a resounding silence from publishers and agents. Still, the story called to me. So I answered.
Finally, 20 years in, I hired an editor and wrapped up Josef's Lair, and it is now online as an ebook at Smashwords,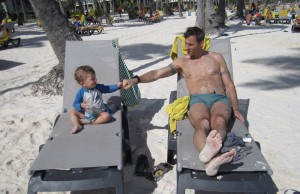 ibooks, Indigo, and Kobo and in paperback on Amazon. It's now alive, so even if I die (harsh!), it's out there, instead of buried somewhere on my hard drive. That may sound weird, but it means something to me. After all, the story is very much an expression of my life and the ideas that I have grappled with for many years (about the nature of morality and the human condition, etc.). Josef's Lair  also reflects some of my big travel adventures that helped form my worldview – from Central America (1989, 1991, 1993, 2003-2004) and Cuba (1991, 1993, 1999) to Israel (1998) and France (1968-present).
So here I am, listening to Elbow, D'Angelo, and Alt-J . The book is done (there are still miles of promo to go before I sleep), my hair is grey, I have an amazing wife and son, and I'm still living in the same apartment in the Annex after 20 years (some new furniture and a coat or two of paint).  It's more than a figure of speech when I say that with the completion of Josef's Lair, a chapter of my life now comes to a close.
Download the first three chapters of Josef's Lair for free at Smashwords (or buy the entire ebook!): https://www.smashwords.com/books/view/517515
Visit www.JosefsLair.com for more information and links on where to find it.
Watch the intro trailer to the book: