Turning Back the Clock – On Being 17 Again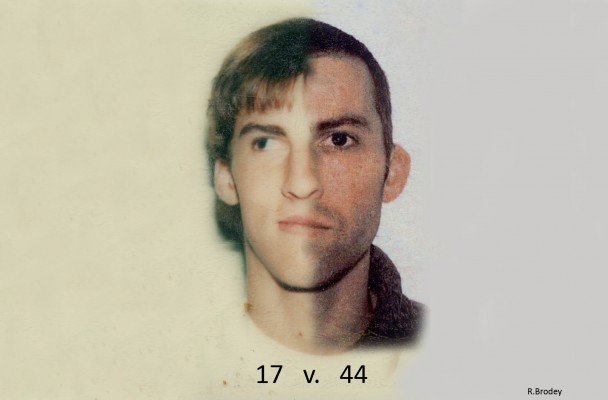 The dream was cloudy. I can't say where I was precisely, but I clearly remember wandering among crowds of people. I was despondent and weeping, mourning life. I kept crying, "I want to be 17 again!" A long existential groan followed. I woke up feeling a sadness gnaw at my guts.
I spent the morning with my mood tipped sideways, feeling guilty that perhaps my unconscious was judging my present life – that it somehow didn't measure up to my youth. Then I got to thinking: what was I doing at 17 that was so much better than the present – at least as far as my dream was concerned?
Stamina: I had it, though it's a low blow to bring that up now! House parties until the wee hours, and I could shake off the hangover by morning. Also: I regularly rode 100 and 200 kilometres on my bike — back when Steeles Avenue marked the city limits and what lay beyond was pure countryside (Read: those fields are now sprawling subdivisions).
Sleeping in: I remember those days of sleeping in until 1pm in my parents' basement. Only the smallest cracks of light ever made it into the recesses of my teen den. Blissful.
Endless days and endless nights: Me and my best friend, Cam, would wander back to my place after school, listen to music and record ourselves on cassette tape being jokesters or making up outrageous stories, forgetting that there was this thing called time. And if I was ever in a friend's neighbourhood, I'd just pop in. No invite required.
The Summer of 17: I spend several months in France touring around with my parents, hiking in the Pyrénées, staying beachside in Biarritz, and eating baguette avec jambon and pâté. Then I took off on my own for a few weeks to meet a friend on the Mediterranean where we hung out on the beach, got into the occasional wrestling match in the sand, and drank beer as we cruised the streets of Juan Les Pins on warm sultry nights.
School: I loved my friends but sitting through class seriously sucked (with the exception of several key teachers through my 5 years at Jarvis). Honestly, it's a bit of a blur to me. Call it teen brain (or maybe classroom learning just isn't the most natural way for humans to learn).
The Job: At 17, I was working as a busboy at the restaurant Bregman's. During the week, I worked a shift or two until 12 or 1am, and on the weekend, I'd work until 2 or 3am. The chocolate cake was memorable but the job was shit, especially when I had to wade into the women's washroom to clean up after the toilets overflowed.
Responsibility: This had a very narrow meaning at the tender age of 17. My task was to stay alive and be a decent human being. My money was my money.  With tips I earned as a busboy/toilet cleaner, I bought my first professional racing bike, a Pinerello Treviso. For over two decades that bicycle was sometimes known by my girlfriends as the "other" girl (The Pinerello has since been replaced by a Cervelo with a similar elevated status).  
The Future: There was no real apprehension about the future beyond the occasional fear of a nuclear war with Russia. Ahead was only possibility.
OK, so upon review, 17 actually looks pretty good. But 44 is still in the game:
Stamina: This is definitely my downfall. I sometimes blame diet and sometimes parenthood or the altitude for why I've lost my late night mojo. It's gone. Clubland is dead to me. But: I regularly run 3 to 4 hours continuously. Take that 17 year old me!
Sleeping in: It's a fairly abstract concept now. When Sevan sleeps in until 8am, there are fireworks. Unfortunately, something usually pulls me from bed before 8:30am, whether it's work, the need to pee, or a training run. Still I do dream of sleeping in until 11am one day – even just so I can tell my grand kids about it.
The Summer of 44: I'm still living the dream! Heading off to France with my little family to chill in Paris with friends, hike in the Pyrénées, and do some lounging on the Mediterranean. I'm also planning a few out of city cross-country races and the trip to Whistler to compete in the 80 kilometre cross-country race Meet Your Maker.  No matter what, I want to keep travelling, and I want my son to have a sense of the world outside the confines of our neighbourhood and city.
School: Life is the best school of all! The last time I was inside a high school was about 10 years ago, when I volunteered to talk to students about a career in writing. It definitely wasn't a scene from the Dead Poets Society. Staring at those blank faces threw me off my game. A few kids were curious; most expressed boredom. It taught me to appreciate the vocation of teaching. I occasionally have a recurring dream in which I'm attending university but find out that I missed a credit in grade 9 so that I'm forced to sit in an undersized chair/desk and repeat all 5 years of high school. You got it: Nightmarish.
The Job: Working at an office 4 days a week was never in the plans as a 17 year old. But neither was writing screenplays or a book manuscript (never published), travelling to Bolivia with Street Kids International, working as a production manager at an animation studio, or travelling to West Africa and Asia to write and do photography. There is life beyond the job — as long as you can stay focused on what's really important to you. And my current job allows me to spend a lot of time with my son in his formative years – something I wouldn't trade for the world.
Responsibility: Holy crap. Becoming a parent really messed with my head – in the same way that I imagine people experience LSD for the first time. The ground was no longer solid and nothing was as it seemed through the fog of sleepless nights. I sometimes wish I could take back some of my cranky and less graceful moments in those early days, but I have to own it and just be thankful that my partner had a big heart and thick skin. I'm coming to learn that escaping responsibility doesn't necessarily bring you closer to freedom or even peace and joy. With responsibility — especially when taking care of others — comes a sense of appreciation for life and all those seemingly little moments we experience.
The Future: Unlike at 17, I do have apprehensions about the future, but that's because I now have responsibilities as well as lots of things I still want to accomplish, which means I still have dreams — and dreams are fuel that motivate me. I'm excited to see how Sevan grows up and the choices he makes. I plan to take our little family hiking in Patagonia, visit the markets of Kathmandu, and go to language school in Guatemala. There are so many chapters still to be written. Some will be written by us and others for us.
In the end, it really isn't a competition of the ages — between my 17 year old self and my 44 year old person.  As my older sister, D, once said, we carry all our ages within us. Some may say that's a lot of baggage to haul around. But really, all these past experiences inform who we are and make for a life rich in meaning.