Honeymooning with an Infant is a Trip (Not a Vacation)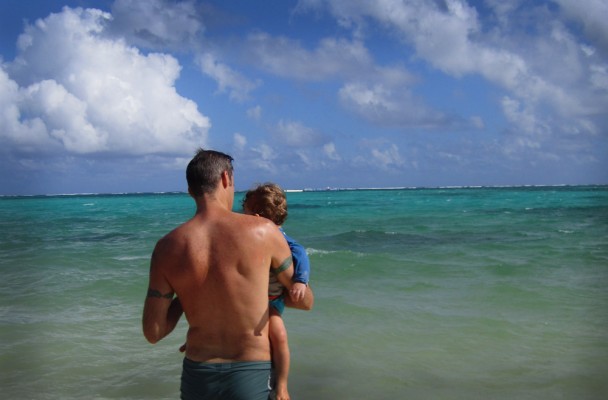 I consider myself a late bloomer. I seem to take my own time arriving at where I need to be – whether it was learning to read, staying upright on a bicycle , or getting married at 44 last Fall. Better late than never, I say.
We didn't immediately take a honeymoon. There were jobs to return to and bills to pay. So we finally decided to jet last month to the Dominican Republic for a week with our son.  When I pictured our honeymoon getaway, I envisioned kayaking and quiet time on the beach with my wife. I envisioned dinners and dark rum on ice. I imagined scuba diving and long training runs on the beach.  Foolishly, I hadn't dreamed of chasing Sevan from one screaming moment to the next or me vomiting into a garbage can while perched on the bathroom throne. Of course, if parenting teaches us anything it's that expectation and reality rarely match up. In the case of our honeymoon, the reality was a tad more brutish and unrestful.
When we touched down in the Dominican, we walked off the plane and across the tarmac, the sun painting the palm trees yellow in a beautiful falling light. A warm seductive breeze sent the trees shifting. I immediately felt open and expansive. This is why we take vacations, I thought.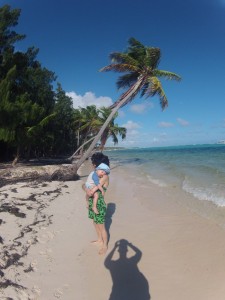 We chose Punta Cana and specifically the Barcelo Bavaro Palace Deluxe because of their advertised childcare facilities. This isn't going to be a blow-by-blow of the trip, but as things would play out, the daycare situation for sub-3 year olds wasn't quite as advertised. There was no group play for him.  In fact, we were told that if we wanted childcare, we would need to hire a babysitter. I let Lara, the non-push-over in the family, play ball with hotel management, and she magically secured Sevan a free babysitter, when needed.  After only two mornings with the sitter, however, Sevan wasn't feeling it, and Lara was coming down with a fever and sweats. Then Sevan started off the rails, with a fever, a gnarly rash, and waking in the middle of the night hysterical. My turn came after eating something suspect at the buffet. I spent the night heaving in the bathroom, the death knell to any sense of gratitude I had for being away.
But all was not lost…The key to our speedy recovery, I'm convinced, was a healthy dose of probiotics before, during, and after our illnesses. Within 40hrs of my bathroom double bill, I was back to eating full meals.
In the end, there would be no kayaking, no scuba diving, and no real quiet time to speak of.  There would still be multi-tasking, chasing Sevan around the water park, comforting him with every slip and fall, bathing him, changing his diaper, feeding him, loving him. But there was also no snow suit to wrestle the little dude into or  minus 14 c winds blowing outside my office window.
For Sevan, the trip provided a completely new environment to explore, a new language, warm weather, ocean, trees, and a big blue open sky.  He was in heaven until we'd pull him away from his beloved amusements.  Also: the staff at the resort were brilliant with him, exchanging fist bumps and blowing kisses throughout the day.
In keeping with being a late-bloomer, I found a renewed sense of appreciation for  the trip on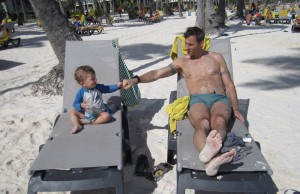 the last day — perhaps triggered by our inevitable return home where the kitchen floor needs to be swept thrice daily and piles of dirty dishes cleaned from the sink every hour on the hour. With Sevan asleep in Lara's arms, we walked a good long while along the beach, soaking up the sun and the sound of waves lapping the shore. The trip may not have been a holiday in the traditional sense, but it was definitely a mini-adventure. All things considered, I'd rather be vomiting into a garbage can in the tropics than stuck at home under grey skies with bones chattering in the frigid temperatures.